Auntie Streamer loves nursing homes, children's parties,community parties and church functions

*********************************************
PERFORMANCE EVENTS FOR ACLOWN4U INCLUDE
Congresswoman Nortons Christmas Party 2010,2011 and 2013,2014,2015,2016,2017
Federal reserve board 2010,2012,2013,2014,2015,2016,2017
*TGIF Largo and TGIF Suitland, Chik-Fil-a Bethesda.
*DC Inauguration 2007 Convention Center
NBC 4 Wednesday's Child Christmas Party*
DC Government FosterParent Services*
Harmony Hall Fort Washington Black History celebration 2007* 2008,2009,2010,2011,2012,2013,2014,2015,2016,2017
Tame It Hair Salon 2007
GrandOpening Greenbelt
*Wachovia Bank Rockville Grand Opening 2007
*MultiCultural Explosion May 2006 Showplace Arena
*Outback Steak House Largo-Mothers day 2006
*PETCO Grand Opening Hagerstown 2006
*National Children's Center 2006
*The Chinese School in Rockville 2006
*Greek Orthodox Easter Party in April 2006
*The French Embassy in January 2005 ,2006
*The French School, Georgetown in March 2006
*City Place Mall in April 2006
*Easter Egg Hunt for the Blind/Visually Impaired April 2006,2007,2008,2009,2010
March of Dimes Washington Dc 2013 *Howard County March Of Dimes in April 2006
*Harlem Renassiance Festival Landover May 2006
*Junior Diabetic Foundation on The Mall DC May 2006
*MT Vernon Head Start Program May 2006
*Kiddie Academy March 2006
*Majic Johnson Theatres April 2006
*Sports Learning Center 2005
*Rita's ice cream Southern MD Grand opening 2005
*Dunkin donuts/Chevron Grand Open Wheaton MD 2005
*Oddessy Cruise Ship 2005
*MD National Capitol Park and Planning 2004 to present


*********************************************************
This company was EXCELLENT!!! Thank you making my baby 6th birthday party one he would remember.

(more) Review by Candice W. from Fort Washington, MD on 7/1/2017
Concert
Overall Professionalism Accommodating Overall Talent Recommend

Aclown4u was amazing. They did a wonderful job interacting with the children as well as the parents. A truly fun experience for all 3500 people in attendance. I highly recommend them and Sylvia Litt was delightful. I would have them for any event that DC Concert Ministries needs their services. Thank you, Carol Auxier,, VP, DC Concert Ministries

(more) Review by Carol A. from Woodbridge, VA on 4/1/2017
Community Event
Overall Professionalism Accommodating Overall Talent Recommend

They were reliable, timely and friendly. I would definitely hire them again.

(more) Review by Monica N. from Washington, DC on 10/29/2016
Birthday Party (Kids)
Overall Professionalism Accommodating Overall Talent Recommend

GREAT! everything went as planned. All of the children had a wonderful time and the adults are still talking about the excitement and energy in the room. I am so happy that the entire event went well and everyone loved the entertainment. I look forward to next year. Thanks Sylvia, you really should be rated a "10"

(more) Review by Lillie H. from Laurel, MD on 10/1/2016

Aclown4u's Response:

Thank you!!! It was a pleasure to be a part of your grandsons birthday celebration. He was an awesome puppet. Look forward to serving you again.

(more)
Birthday Party (Kids)
Overall Professionalism Accommodating Overall Talent Recommend

The kids and I loved everything from the clown, the pony, and the puppet show! Aclown4u is perfect for children's events. She had the children totally engaged and they loved every bit! I will book in the future!

(more) Review by T'Keya A. from Hyattsville, MD on 9/18/2016
Birthday Party (Kids)
Overall Professionalism Accommodating Overall Talent Recommend

I throughly enjoyed the performance it was such a delight watching my granddaughter engage in the puppet show singing and dancing. I would recommend a clown4u to any of my family and friends.

(more) Review by Emma C. from Upper Marlboro, MD on 8/20/2016

Aclown4u's Response:

Thank you for allowing Aclown4u to be a part she was an awesome and amazing one year old participant!!!!

(more)
Celebration
Overall Professionalism Accommodating Overall Talent Recommend

Sylvia Lett and her young adult crew were very professional. I was extremely amazed by the fact that some of our adults enjoyed the face painting more than children. Most importantly, the children, adults as well as myself were BLESSED and enjoyed the overall talent exhibited by the AClown4u team. KUDOS TO ACLOWN4U FOR MAKING OUR FEAST DAY CELEBRATION A MEANINGFUL AND JOYOUS OCCASION!! Therefore, I highly recommend ACLOWN4U for any future events!!!

(more) Review by Herb B. from Washington, DC on 6/26/2016 LOAD MORE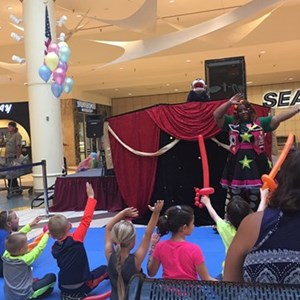 Aclown4u Clown Temple Hills, MD 30 REVIEWS (30) SHARE Request Free Quote

TESTIMONIALS
Aclown4u was great. She kept the children entertained at my launch party for kids clothing. Great experience!!
(more) Review by Lakeisha M. from Capitol Heights, MD on 8/19/2017
Community Event
Overall Professionalism Accommodating Overall Talent Recommend
Great service. The children were very pleased with the balloons and face painting. Lots of laughs and fun??????
(more) Review by Viola M. from Waldorf, MD on 7/15/2017
Birthday Party (Kids)
Overall Professionalism Accommodating Overall Talent Recommend
The Aclown4 u team where great. The kids had a lot of fun. There where over my expectations and the whole package was great and affordable. Will definitely use them again and recommend them.
(more) Review by Shakirat A. from Bowie, MD on 7/1/2017

Feb 7, 2014
Testimonial: December 2012


Thank you so much for accommodating us on December 16th @ Shepherd's Cove Shelter for our Christmas at the Cove Event on such short notice. Santa and Petals were on time and were very professional! The kids were so happy to see Santa and to get there arms and faces painted! I will definitely be calling you again for other events that I plan personally and professionally! THANK YOU!

Sylvia
Let me thank you for the wonderful entertainment you provided for me on Saturday, the clowns were great and the children were blessed. Both of the clowns were very friendly and believe me they really entertained the children…and me, the President of Prison Fellowship Angel Tree, Mr. . Garland Hunt and his crew was there and they enjoyed the entertainment also , I did not want it to end, they were wonderfulllllllllllllll, so look forward to hearing from me next year. (December 2012 Allen Ame Church)
God bless
Rev Chandler
Hi Ms. Lett,
I know this email is a little late but I wanted to take time out to say THANK YOU. Everything was great! They really got the children and parents involved and EVERYONE love it. I have attached some pics. I have already given your name to several other parents and I am thinking of doing a summer party for the kids. So I will definitely be calling you.
Kimberly Simmons-Griffin of MD 2011
Captured Event
December 21, 2011 - Congresswoman Eleanor Holmes Norton's 21st Annual Christmas Party for Disadvantaged Kids on The Hill
What: Annual Christmas Party for Disadvantaged Children
Where: Cannon Office Building
When: 12/21/2011
Time: 11:00 am
Beneficiary: Covenant House, Child of Mine, The Children's Center, District of Columbia's children
Host(s): Congresswoman Eleanor Holmes Norton
Presenting Sponsor(s): D.C. United Soccer, Amtrak
Entertainment: ACLOWN4U
Attendance: 200
Attire: Casual
Donors: D.C. United, Amtrak
Blacktie Photos by: Bry Boland

Mrs. Claus and Santa, elves and Congresswoman Eleanor Holmes Norton
View all photos
Christmas is best enjoyed in the company of children, and at least 200 of them had a great time at Congresswoman Eleanor Holmes Norton's 21st Annual D.C. Children's Christmas Party on the Hill. Covenant House, The Children's Center and Child of Mine bought the kids, ACLOWN4U bought the fun, and there was plenty of food.
"We hope by that by providing these children with some holiday fun not only with toys, but also with some necessities, including hats, gloves and scarves, it will encourage them to believe that things can always be better," Norton said. "These are tough times for the average American."
D.C. United's Head Coach Ben Olsen bought his daughter, Ruby. Kevin Payne, President and CEO of D.C. United, bought himself, one of the many kind gestures of community support, which made the party possible.
Amtrak didn't just lend four volunteers, they give and give. People need to get places, and sometimes Amtrak lends a helping hand. Patricia Mitchell, Wanda McLaren, Account Services and Employee Representative, Collin King, Graphic Specialist, Corporate Communications, Shea Myers, Administrative Assistant, were Amtrak's fabulous foursome.
ACLOWN4U, Washington Metropolitan area's most requested children's performers, were the life of the party. Auntie Streamer and SWEETZ performed several beloved carols, including the Twelve Days of Christmas, and a rap version we didn't quite get the name of, but they rocked the house. Blacktie's favorite was the interactive "Manners," where the kids happily answered the call and response with an, "Excuse Me!" They were instructed not to hit someone who bumps into them, but to politely say, "Excuse Me!" Good advice
########
Thank you for participating in the Covenant House of Washington's Annual Capitol Hill Christmas Party for disadvantaged children held in conjunction with my office. The children especially enjoyed the puppet show with the way you involved them in singing and participatipating with you. I appreciate your assitance in making this a very success event.
Congresswomen Eleanor Holmes Norton 2010
Thank you to supporters like you for making 2010 a very successful year for us at The Connection- particularly with your invovlement in comnmunity day/health fair......
The Connection-Edgewood Baptist Church,First Baptist Church,Potomac Baptist Church, Mt Enon Baptist Church (SE Washington DC)
You did a couple of shows for our 3 year olds at a picnic a couple of weeks ago for Charles County Pre School. You did a great job and we'd like to invite you to perform at our Family Nights in September.
Charles County Md Public Schools 2010
Hi Sylvia,
Thanks again for all your help with DCPS summer school. The students had a great time. Thank you!
Alison Wollack 2010
Junior Associate, Office of Out-of-School-Time
District of Columbia Public Schools
Hello, my name is Jennifer Gillyard and I am a representative of the National Council for Negro Women, an organization founded by the late great civil rights leader Dr. Dorothy Height. Annually we host our Black Family Reunion on the National Mall, the event usually attracts over 200,000 people from in and out of state. This year the event will be held on September 11, 2010 and we are looking to your for assistance in the form of volunteering your amusement and balloon animal making talents in our Children's and Youth Pavilion.
National Council for Negro Women
Good Morning Sylvia, Thank you and your team for a Great Job on June 26th at Pennsylvania Ave Baptist Church.

Mrs Grant
We continue to sing your praises for the great work you've done for us the past 3 years, and look forward to officially working with you again!

Kelly Mckay(Jayden 3) 2010
I just wanted to thank you and your family so much. You all did a fabulous job at my party Saturday. I knew when I found your company that I didn't need to worry anymore. Everyone at my church who saw the video has said how great the show was. We are even thinking about having you at our annual Family Day coming up in August. Just know you have made not only a fan but a really good free promoter for your business. I will recommend you as often a possible. J J J
Thanks again your professionalism beyond appreciated. May god be with you and your family.
Tymillia R. Johnson 2010
Childrens National Hospital Center WASH-FM 97.1 Radiothon
Clowning in a fun loving and educational teaching method
Company policies
1. The balance is due when the performer arrives and before the entertainment begins.
2. Moonbounce delivery once accepted is rain or shine, no refunds due to weather.
3. Please discuss any discrepancy regarding your event with the party leader (ie clown etc) once they leave your event No refunds will be given.
4. Booking fees are non refundable
5. We accept cash only on the day of the event (corporate events exception)
6. Machine rental requires credit card deposit/hold or cash deposit of $200 ifcustomer is running them
7. Please allow 15 minute grace period due to travel, set up and or accommodation of party
8. Schedule of entertainment subject to change depending weather, rain, heat,mud
9. If by observation we see that a client has a questionable skin issue (open sore, bumps etc) we reserve the right to not paint them.
10. Face painting is only for children in attendance at the event under 16 only during the designated face painting time
11. Oops if you haven't heard from us the day before your events please contact us in order to confirm your event